For Immediate Release
For more information contact:
TODAY SHOW "STEALS & DEALS" FEATURES GLASSWARE AT 65% OFF
Personalized Glassware featured for TODAY SHOW Wedding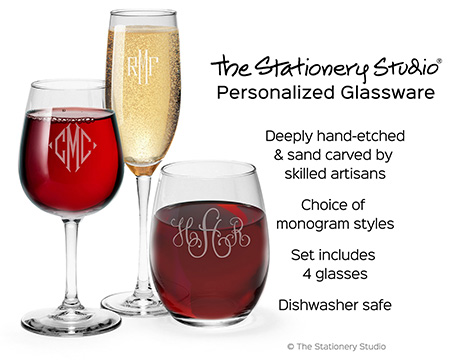 March 17, 2016 - Buffalo Grove, IL – The Stationery Studio (www.thestationerystudio.com) says "I DO" to being included in a special wedding edition of Jill's Steals & Deals on the Today show today. In conjunction with the release of "My Big Fat Greek Wedding 2," the Today Show is throwing a wedding for a couple who were chosen by viewers.
Jill Martin presented three wedding favor options for viewers to choose for the Today show couple, Kaitlin Roseman and John West. The Stationery Studio was honored to be included in this fun celebration and is offering personalized champagne flutes, stemless wine glasses and stemmed wine glasses. If chosen, The Today show will be handing out monogrammed champagne glasses to all the guests at the wedding which will take place on Thursday, March 24 in the famous Rainbow Room.
The Stationery Studio is offering "Today Show" viewers their choice of a set of four personalized glassware in a beautiful white box ready for gifting. These make great gifts for engagements, housewarming, bridesmaids and groomsmen gifts and weddings.
The Stationery Studio, LLC is the industry's leader in premier online personalized stationery and carries over 22,000 unique products. The Stationery Studio has been featured frequently in national press outlets including People magazine, Woman's Day, iVillage, Harper's Bazaar, Today Show and more. They have won numerous distinguished honors, including the 2012 Trendy Online Stationer of the Year Award.
###