For Immediate Release
For more information contact:
Stop the Back-to-School Madness Before It Starts:
Tips for Back-to-School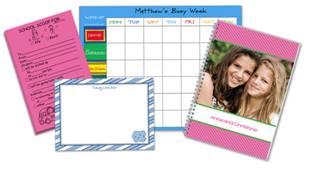 Buffalo Grove, IL -- In just a few months, summer will be here. The pitter-patter of little feet running around the house will end abruptly as the kids hop on the school bus next fall. Parents need to get organized as they begin shopping for clothes and school supplies.Personalized items are a big hit for both kids and parents who want style and function - mixed with originality.
Staying on top of your "organizational game" will alleviate morning madness. Let's face it, happy parents make happy kids! Start the year off right – organized and prepared. TheStationeryStudio.com offers these tips to make Back-to-School a stress-free time:
Be Original — Buy personalized items like this photo spiral journal. Kids can write in their photo journals so parents can have an annual keepsake. And, moms and dads can bring their photo notebooks to work to see their kids' smiling faces throughout the day.
Be Organized — Check out these notepads and calendars to make sure that your little guys and girls know the expectations and how to make a to-do list. Organizational skills are one of the most important tools for school success.
When school starts, so does the chaos of busy morning, sports schedules, after-school activities - and stress for moms and dads who feel the need to stay in control.
If you purchase this "My Busy Week" calendar from TheStationeryStudio.com, you can be certain that the hustle and bustle of the week will flow much smoother. Every busy household needs a "central command." Busy week calendars, which come with magnets on the back, stick to the refrigerator so everyone in the family can see where and when they need to be somewhere. Another option is to designate a special place in the kitchen or hallway with a stylish magnetic board.
Label everything – How many times has your son or daughter come home without hats, mittens, jackets? Make sure to use these easy iron-on labels. This way, there won't be any cases of mistaken identity when you have to dig through the Lost-and-Found.
Plan ahead —Make sure to put a little reminder note in your child's folder or backpack so teachers know who they are going home with to play after school. These Permission Pads are the best way to keep the whole family on the same page. (They come in 5 different colors and feature check boxes for each child.) If you won't be home after school, leave these Babysitter Notesso the sitter is on the same page and knows her responsibilities ahead of time.
If you kids are headed off to college, make sure they go in style with our collegiate notecards, dorm essentials and sorority and fraternity merchandise.
This year, make Back-to-School shopping a streamlined process. With these tips in mind, busy households should run smoothly once the Fall season kicks into gear.
The Stationery Studio, LLC, the industry's leader in premier online personalized stationery is a one-stop shop for all holiday entertaining needs. TheStationeryStudio.com features more than 14,000 products that are featured frequently in national press outlets including "O" The Oprah Magazine, "In Style", "The Today Show", ABC-TVs "The View", "The Rachael Ray Show" and more.
####