For Immediate Release
For more information contact:
TODAY SHOW "STEALS & DEALS" FEATURES BACK TO SCHOOL EMOJI NOTEPAD COLLECTION 70% OFF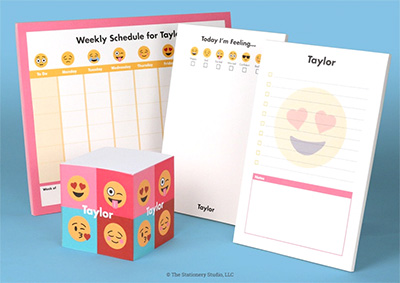 August 24, 2016 - Buffalo Grove, IL – The Stationery Studio (www.thestationerystudio.com) is thrilled to be included on the "Today Show" for Jill Martin's Back-to-School "Steals & Deals" featuring their Emoji Notepad Collection.
Emojis are the hottest trend of 2016 This unique collection is perfect for back-to-school
The collection features:
8½ x 11 Weekly Scheduler (50 sheets)
5½ x 8½ Name Pad (50 sheets)
5½ x 8½ List Pad (50 sheets)
3 3/8" x 3 3/8" Sticky Memo Cube (675 sheets)
Features the hottest trend of 2016 – emojis!
Emojis are loved by kids of all ages. Great for adults, too.
Available in 3 different styles.
All pads are personalized with a name.
Wonderful organizational collection, perfect for starting the new school year.
Great gift for back-to-school, birthdays and other occasions.
According to Inc.com, emojis are a "rising, unstoppable trend," and Oxford Dictionary chose an emoji as their word of the year in 2015. The emoji trend continues to grow in 2016 and The Stationery Studio was excited to create a fun collection of Valentine exchange cards. This collection is exclusive to The Stationery Studio.
The Stationery Studio, LLC is the industry's leader in premier online personalized stationery and carries over 22,000 unique products. Frequently featured in national press outlets including "Architectural Digest", "Working Mother", "The Today Show", "People", "Chicago Tribune", "Associated Press" and more.
###