For Immediate Release
For more information contact:
Real Adult Stationery Makes Letter Writing More Romantic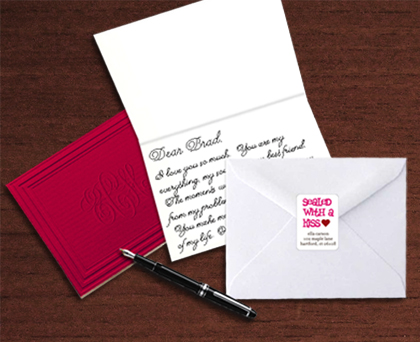 Buffalo Grove, IL – There are so many electronic communications options these days that the old-fashioned letter often seems quaint. Don't believe it! According to Sue Fox, StudioNotes Etiquette Expert, handwritten letters were not lost in the dark ages — maybe just overlooked with the onslaught of electronics! This Valentine's Day, show the ones you love how much you appreciate them by following these sure-to-win tips for romantic letter-writing:
If you aren't living under a rock, you've most likely noticed there is a new-founded popularity of personalized notes and letters. Call me old-fashioned, but I still believe that nothing is as thrilling (and romantic) as receiving a nice, long "handwritten" letter full of news, intimacies, and real emotion — the kind of letter that you can read and re-read and tuck away in a special place forever.
When it comes to cards, there is just something more romantic and personal in receiving a well-designed handwritten note card instead of an e-card. You can't hold an e-mail in your hand, admiring the ink and penmanship. And a text or a Tweet may be a momentary cheery greeting, but when it appears on a gadget there's nothing intimate about it!
The only "hardware" of letter writing is: pen, ink, paper, brain, and heart! To write a "real" letter (that is, one that does not involve a computer), you need paper, an envelope, a pen (and ink if you use a fountain pen), a postage stamp, and, probably, a wastebasket.
Personal letters should be composed on something a bit more dressy than those dead-white 8 1⁄2-x-11-inch sheets that you feed into your printer. Investing in personalized or decorated stationery or note cards is an excellent idea.
Invest in a nice fountain pen. Real ink looks wonderful on high-quality paper. You can find disposable fountain pens preloaded with ink for just a few dollars. Those inexpensive pens work a lot better than you might think, and if you get to the point where you really like writing with pen and ink, you can spend anywhere from $30 to more than $1,000 for a fancy pen.
Ink, too, says something about you. Writing ink comes in many colors. However, dark blue and black are the most formal and correct. The standard dark blue ink conveys a neutral message. Your reader won't even notice the color. Black ink looks very assertive. Green, purple, and brown inks are unusual enough to identify the writer as a creative individual. Red ink may appeal to you, but it is difficult to read under certain lighting conditions and on certain tinted paper stocks.
Make a statement before the envelope is opened. Your stamp says something about you. While you're out shopping around, stop at the post office and get some stamps that are more interesting than the "official" first-class stamps that they sell in rolls. You may wish to select a commemorative design that features a special interest or cause or purchase the "Love" stamps that are introduced each year. And, even if you are living in the same home, mail your letter to your loved one.
To make your letter even more romantic and memorable, use a wax letter seal, personalized sticker seal or fun personalized return address label. When mailing, ask the postal service to hand post the letter.
Your desk is an important part of success in letter writing. You need a large enough surface to provide a resting place for your forearm and elbow. Otherwise, your writing may have a messy, wobbly look. And, if you think your handwriting looks like chicken scratch don't be discouraged! Practice makes perfect. The more you use your handwriting skills, the more they will improve.
There is no question that etiquette changes with the times, but the tradition of handwritten letters is here to stay. So, this Valentine's Day think "romance" and take the time to write a love letter for your special Valentine -- maybe tuck it into his or her Valentine's Day gift?
It's time to stock up on real, adult stationery and put the pen to paper. You may surprise yourself with the results!
About the author:
Sue Fox is the new guest blogger for TheStationeryStudio.com. Sue has provided etiquette products, educational material, group training, and private consultations to business professionals, celebrities, corporations, K-12 schools, and colleges for 12 years with her California-based company, Etiquette Survival. Sue is a Professional Member of the International Association of Protocol Consultants, (IAPC). She is the author of Etiquette For Dummies, (2nd. edition 2007), Business Etiquette For Dummies, (2nd. edition 2008), and Wedding Etiquette For Dummies (1st. edition 2009).
About TheStationeryStudio.com:
The Stationery Studio, LLC, the industry's leader in premier online personalized stationery is a one-stop shop for all holiday entertaining needs. TheStationeryStudio.com features more than 14,000 products that are featured frequently in national press outlets including "O" The Oprah Magazine, "In Style", "The Today Show", ABC-TVs "The View", "The Rachael Ray Show" and more.
The Buffalo Grove, IL-based company has created announcements, wedding invitations, personalized gifts and party supplies for some of Hollywood's biggest event planners and A-list celebrities. TheStationeryStudio.com has unique products that are sure to make any party the talk of the town.
For more information, please contact Jennifer Raaths at 312-401-8460 or e-mail [email protected].
We are happy to provide you with any high-res product images or samples you may need for editorial purposes.
Join us on Facebook and Twitter and read more ideas for holiday entertaining and more on our Studio Notes blog at http://blog.thestationerystudio.com.
####