For Immediate Release
For more information contact:
Score A Touchdown with Personalized Team Party Goods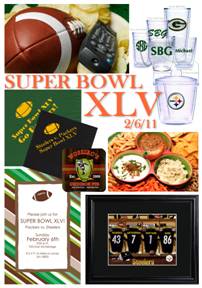 Buffalo Grove, IL --- Getting ready to tackle a big party this Super Bowl weekend (February 6th)? Show your team spirit with personalized party supplies and favors from TheStationeryStudio.com. Our experts have put together ideas to make your house the only place on the block to watch your favorite teams battle it out in Superbowl XLV.
Our Football Partiessection is a one-stop shop for the "arm-chair quarterbacks" in your house. Whether routing for the Green Bay Packers or the Pittsburgh Steelers, we have everything you need for a screening party – including keepsake memorabilia to save and re-use long after your guests are gone.
Our staff can guide any party thrower in the right direction. Here are just a few of our inspiring ideas:
The Stationery Studio, LLC, the industry's leader in premier online personalized stationery can meet all entertaining needs. Whether it's a holiday, birthday or special event like Super Bowl XLV, The Stationery Studio's "insiders" can offer tips for planning the perfect theme party. Hosts and hostesses can order personalized party supplies to put together crowd-pleasing table settings that will be the envy of all.
TheStationeryStudio.com features more than 14,000 products that are featured frequently in national press outlets including "O" The Oprah Magazine, "In Style", "The Today Show", ABC-TVs "The View", "The Rachael Ray Show" and more.
"There is no better way to plan a party, host an event or give a gift then by adding a personal touch," says Social Media Manager Jennifer Zeidler. "The Stationery Studio's sure-to-win savvy strategies create the perfect invitations and personalized supplies for the most fun and festive Super Bowl parties– proving that anyone can make entertaining look easy!"
The Buffalo Grove, IL-based company has created announcements, wedding invitations, personalized gifts and party supplies for some of Hollywood's biggest event planners and A-list celebrities. TheStationeryStudio.com has unique products that are sure to make any party the talk of the town.
"When Hollywood studios or event planners create star-studded events, they often turn to TheStationeryStudio.com to provide the best quality products,"says Zeidler. "And if celebs are buying our personalized party supplies, so is everyone else."
For more information, please contact Jennifer Raaths at 312-401-8460 or by e-mail at [email protected]. Join us on Facebook and Twitter and read more ideas for holiday entertaining and more on our Studio Notes blog at http://blog.thestationerystudio.com.
####