For Immediate Release
For more information contact:
Make Little Campers Happy with Personalized Gifts:
Tips for Overnight Camp Packing from TheStationeryStudio.com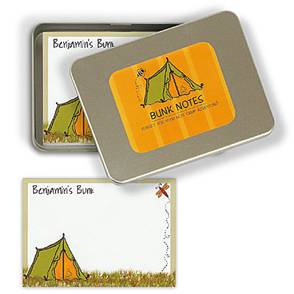 Buffalo Grove, IL -- As the school year winds down, parents are starting to think about what to pack their soon-to-be overnight campers. Personalized products from TheStationeryStudio.com make it easy to cross a majority of the items off the summer camp packing list.
Experts at TheStationeryStudio.com have the 411 the on what to pack for camp to make your campers happy:
Encourage campers to write home the old-fashioned way. Since most camps ban e-mail correspondence, your campers will be thankful to have his or her own personalized stationery sets. Fun notecards encourage campers to put pen to paper this summer. These fun, unique camp designs in flatcards or foldovers will be the envy of kids' bunkmates. Clipboards are perfect to lean on when writing and keep notes from home together. Parents should pre-address the envelopes and use pre-printed return address labels or custom stampers.
Label everything with easy solutions. Whether parents choose to sew or iron on names, TheStationeryStudio.com makes it easy and takes the headache out of labeling for camp. These 100% soft cotton iron-on labels are great for the identification of campers' clothing. Whatever option parents choose for labeling is made easier if they plan ahead and get prepared with this variety of options.
Buy personalized towels and wraps. Fashion meets function when kids head to the lake or showers with our personalized wraps and unique monogrammed towels.
Make sure kids have what they need for organization and identification. Personalized laundry bagsare a great way to ensure that what is sent to camp comes back home clean (or at least these bags keep the dirty laundry contained)! Don't forget luggage tags so the bags get to and from where they need to go.
Add some extra special fun items to help ease homesickness. A personalized pillowcase will help campers into a peaceful slumber after a long day. Diaries and writing journals are also a special item that will help campers write about their feelings of independence during rest hour and make special keepsakes, which will last a lifetime.
Make sure that your campers can keep in touch with their camp friends after summer. "Stay in Touch" personalized calling cards (see below) are a quick way to remind new friends that they can correspond all year long until they meet again.
The Stationery Studio, LLC, the industry's leader in premier online personalized stationery is a one-stop shop for all gifting and entertaining needs. TheStationeryStudio.com features more than 14,000 products that are featured frequently in national press outlets including "O" The Oprah Magazine, "In Style", "The Today Show", ABC-TVs "The View", "The Rachael Ray Show" and more.
The Buffalo Grove, IL-based company also carries birth announcements, wedding invitations, personalized gifts and party supplies.
We are happy to provide you with any high-res product images or samples you may need for editorial purposes.
Please join us on Facebook and Twitter and read more ideas for holiday entertaining and more on our Studio Notes blog at http://blog.thestationerystudio.com.