For Immediate Release
For more information contact:
We're Cooking Up New Creative Packaging Ideas for Homemade Treats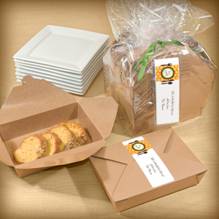 Buffalo Grove, IL – TheStationeryStudio.com has cooked up a creative way to solve the age-old dilemma of what to do with leftovers. Hosts and hostesses no longer have to scramble to find non-recyclable plastic containers with matching tops or aluminum foil to pack leftovers for guests after special events or family gatherings. Gourmet-to-Go kits make wonderful hostess gifts and are wrapped and ready for leftovers and homemade treats.
TheStationeryStudio.com's exclusively designed labels and food-safe container sets are a new product – perfect for an upcoming entertainment feature. The creative labels and 100% recycled paperboard goodie boxes combine personal style with function.
The gift sets include 12 food-safe boxes and 12 personalized seals to use on kraft-colored boxes that utilize 35% post-consumer content and are an environmentally-minded product. The boxes are leak-resistant, microwaveable, freezer safe and can hold hot/cold and wet/dry foods. Size is 7 3/4" x 5 1/2" and the boxes are approximately 2" deep.
The personalized 2" x 6" seals arrive in clear vinyl sleeve and are water and scratch resistant.
The Stationery Studio, LLC, the industry's leader in premier online personalized stationery is a one-stop shop for all holiday entertaining needs. TheStationeryStudio.com features more than 14,000 products that are featured frequently in national press outlets including "O" The Oprah Magazine, "In Style", "The Today Show", ABC-TVs "The View", "The Rachael Ray Show" and more.
"There is no better way to plan a party, host an event or give a gift then by adding a personal touch," says Social Media Manager Jennifer Zeidler. "The Stationery Studio's sure-to-win savvy strategies create the perfect invitations and personalized supplies for the most festive events – proving that anyone can make entertaining look easy!"
The Buffalo Grove, IL-based company has created announcements, wedding invitations, personalized gifts and party supplies for some of Hollywood's biggest event planners and A-list celebrities. TheStationeryStudio.com has unique products that are sure to make any party the talk of the town.
For more information, please contact Jennifer Raaths at 312-401-8460 or e-mail [email protected]. We are happy to provide you with any high-res product images or samples you may need for editorial purposes.
Join us on Facebook and Twitter and read more ideas for holiday entertaining and more on our Studio Notes blog at http://blog.thestationerystudio.com.
####