Sugar Cookie Recipe
1 cup butter
1 cup sugar
2 tsp vanilla
1 egg
3 cups flour
1 tsp baking soda
½ tsp salt
Preheat oven to 350 degrees. Mix butter and sugar until light and fluffy. Add vanilla and egg. Combine dry ingredients in separate bowl. Add to butter mixture and mix to combine. Roll out dough between two sheets of parchment to ¼ inch thickness. Chill for 1 hour to overnight. Cut into shapes and place on parchment lined baking sheet. Chill again for 15-20 . Bake at 350 for 7 minutes, rotate pans, then bake for approximately 3 minutes more until cookies are just beginning to turn golden brown. Cool on wire racks until completely cool.
Cookie Glaze
3 ¾ - 4 cups powdered sugar
6 Tablespoons whole milk
1 tsp almond flavoring
6 Tablespoons corn syrup
Combine powdered sugar, milk, and flavoring. Mix until smooth. Add corn syrup. Stir until combined and smooth. If desired, add paste food coloring.
---
Finish your special treats in style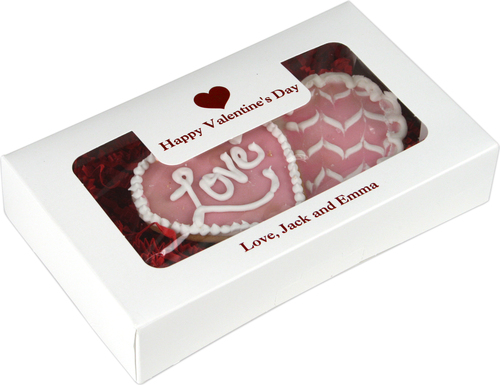 A festive personalized presentation for a gift of wonderful home-baked cookies and confections. Set of 25 white boxes. You select your optional design and select the font and imprint color for text. Boxes arrive flat, easy assembly required. Box size is 7-1/2" x 4-1/2" x 1-1/2".
Click HERE to view all Valentine's Day Gift Packaging
---
Tips
Chilling sugar cookie dough for rolled and cut sugar cookies hardens the butter in the dough so that the cookie dough rolls out more easily. After cutting the cookies, you can chill them again so that the cookies retain their shape while baking.
Instead of store bought frosting, take time to make a cookie glaze which makes cookies look professional, smooth and dries hard for decorating.
Use paste food coloring to make vibrant colors for cookies. Liquid food coloring may change consistency of glaze or royal frosting. Experiment by combining different colors to make unique shades.
For a clean edge on the cookie, outline with royal frosting, then fill in with cookie glaze. This stops the glaze from running down the sides of the cookie.
Great tip for decorating: Use a squeeze bottle to "fill" surface with glaze. Spread glaze to corners with toothpick or small knife. You can purchase bottle at any craft store or Wal-Mart
Once the glaze is dry (can take several hours) decorate cookies with a pastry bag for a professional look. Pastry bags are available at any craft store or in a pinch use a zip-log bag.
Experiment with different types of sprinkles, sugars, and decorations. For instance, make a border with pearl candies or large sprinkles and/or use sanding sugar for a sparkling effect.